Mrs. Phillimore's 2012-2013 Supplies List
by Amanda Phillimore
July 18, 2012
Supplies List for Mrs. Phillimore's Math Classes
Students should be able to reuse many items from year to year, 
if they take care of them! 



• Make sure to shop the back-to-school sales for the 
best prices and availability. 






• If you wait until school starts, you may have to 
shop around to find some items.






• Students need these items the first day of school!






• Cell phones, ipods, tablets, etc. cannot be used 
as calculators in my classroom.  Students must have 
a stand-alone calculator.






• If you have any questions, please email me at:   


akphillimore@ellsaline.org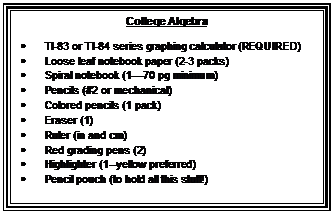 Trig/Precalculus and College Algebra Students:
It is imperative that you get a TI-83 or TI-84 series calculator.  If it says "PLUS", that's fine.  If it says CAS, it will not be allowed.