Ell-Salin e USD307 is seeking a parent or patron to serve on the District Technology Committee. Share, learn and be a part of the technology development at Ell-Saline. The committee meets at 7:20 AM in the Ell-Saline District Office, located 414 E. Anderson, Brookville. The meetings should take about an hour on on the following dates: September 10 November 12 January 4 . . .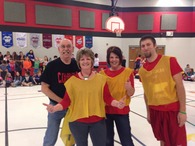 Current Highlights
How to create shortcuts on your Windows desktop of your favorite desktop. First 20 seconds of this video is talk and no action, video is less than 3 minutes long. Open Internet Explorer or Google Chrome. Go to the webpage that you want to make a shortcut of like . . .
Enrollment is Monday, August 3 8AM - 1PM & 5PM - 8PM K-6 Enrollment will be held at the Elementary School 7-12 Enrollment will be held at he Middle School/ High School The following enrollment forms can be filled out, printed, and brought with you t o enrollment. For . . .